ADC6800
---
Analog YUV to Serial Digital Converter


ADC6800 series analog YUV to serial digital converter is a broadcast quality decoder. It has 4Ch SD-SDI outputs. The broadcast quality analog component NTSC or PAL can be converted to a SDI signal.
ADC6800 features the latest circuit design, low power consumption and 4 SDI (SMPTE-259M) outputs simultaneously.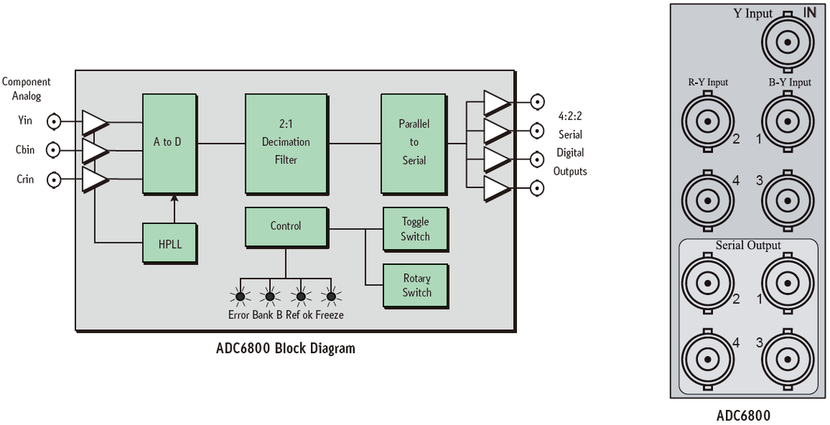 ---
Features >>>
Compact design
Adapts to multi-standard application
Advanced decoder technology
Advanced interpolation technology
Powerful process amplifier
Vertical blanking
Synchronous sequential circuit
---
Specifications >>>

Analog Video Input
Standard: SMPTE/EBU component and, Betacam component 525-line and 625-line auto switching
Return Loss: >40dB to 5.75MHz
Level: 0.7Vp-p color diffe, signal 1.0Vp-p Chroma-luma signal
Impedance: 75 ohm
Connector: BNC per IEC 169-8

Digital Video Output
Number of Outputs: 4
Standards: SMPTE 259M-C,270 Mbps ,525/625 component
Output Level: 800mV +/-10%
Return Loss: >18dB to clock frequency
DC Offset: 0V+/-0.5V
Rise Fall Time: 0.4 to 0.7nS (20% t o 80%)
Overshoot: <10% of amplitude (all outputs terminated)​

Power Dissipation
Positive Rail: 5.8W
Negative Rail: 0.2W
Total: 6.0W
*Specifications are subject to change without notice.

---
Ordering Information >>>

ADC6800
Analog Component to SDI converter