---
---
SV-4K Aurora1600 with the LMW-550-4K 55 Inch Ultra-HD Monitor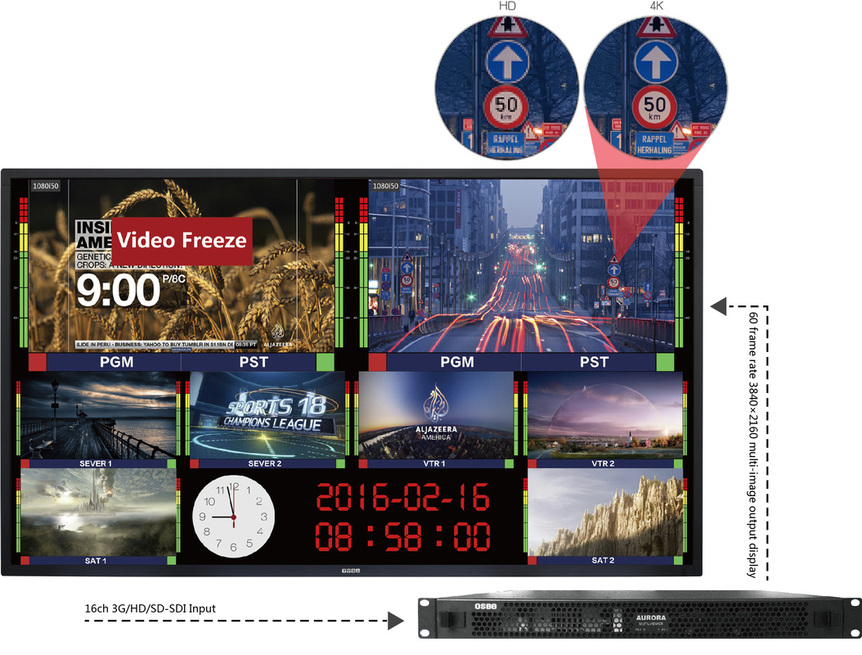 ---
Overview >>>

Broadcast and streaming video are transitioning from SD to HD and now UHD at a rapid pace. Display of these signals require a traditional Multi viewer plus 4 HD display panels that require a large space to deliver the same image quality of OSEE's Aurora Multi-viewer with a single LMW-550-4K / LMW-420-4K Display package that delivers the same functionality at a fraction of price and space required.
---
The Inherent Technical Flaws of
Multi viewer plus HD Resolution Display >>>

Degraded signal with multiple windows on an HD resolution display
Take the example of a typical layout of 2 + 8 windows on the single screen, let's say the displayed signals are SD-SDI. Two 1/4 screen windows can be shown in a pixel to pixel manner and other smaller windows are presented at 25% of its native resolution. In an SD environment this single screen layout cab meets the needs of basic monitoring purpose. However in the same single HD screen configuration is displaying HD-SDI, the resolution of 2 larger windows are reduced to 25% of native resolution and the 8 smaller windows are only 6.25% of HD native resolution. There is no doubt the display quality at this resolution is nothing but merely a vague image.

Comprise to the less number of windows to exchange for quality monitoring?
In order to satisfy the needs of high quality HD monitoring, there are often only 4 windows per screen and the amount of screens is quadrupled, and the advantage of using a multi-view system in a space limited environment versus a traditional multiple screen monitor wall may be of li􀆩le difference in space required.
---
Advantages of
AURORA1600 plus 55 INCH UHD-4K Broadcast Monitor LMW-550-4K >>>

When 4K monitor is used as a display screen from

multi-viewer some big images can be displayed in pixel

to pixel to ensure more details to be observed.

The signal displayed on the common 4K monitor with Rec.2020 color space

may result in false color, but OSEE avoids this error using standard HD Rec.709

color space. This tailors the multi-viewer for display of HD-SDI, features

accurate color and grey level reproduction.

Quad-link 3G-SDI or 4ch HDMI high-speed interfaces can achieve 50/60Hz progressive frame rate display at 3840×2160 resolution.