---
---
Features of Aurora1600
Introductory Package >>>


The AURORA1600 is a multi-image processor that combines OSEE's advanced technology for multi-screen controller with high density matrix signal routing.

The AURORA1600 features easy programming, high quality multi-image display, and excellent splicing function for a variety of monitor wall applications and configurations, and a host of newly conceived features. Due to the modular design, customers can choose the inputs and outputs according to their need.

With high performance, reliability and affordable price, it is widely used in channel play-out, master control, studios, obvan, command centers, video conferences, staging, live concerts and video walls.

---
Aurora 1600 Features >>>

Fully configured, ready to use out of the box. Simple to set-up with an intuitive user interface
Full function remote control panel and iPad application for multi-viewer presets and router function includes re-assignment for on screen source video in real time
3840×2160 resolution panel
Standard Rec.709 color space
The friendliest and easy user interface software of any video wall controller of this class
16 channels input that automatically sense any mix of 3G/HD/SD-SDI signals
Simultaneous synchronized output of 4 channels HDMI and format assignable 3G HD-SDI/SDI signals
Incorporates a 16×4 router operating independently of multi-viewer matrix
Up to 16 images can be displayed on a single screen
All signals an be placed across multiple screens
Zoom function can place a single image on all 4 outputs
Screens can be placed within screens (PIP) with multiple layer assignment
16 Assignable GPI (General Purpose Inputs)
4 Assignable GPO (General Purpose Outputs)
Synchronization to facility master timecode or UTC (Via control software)
Multiple analog or digital Clocks and timers with date display
Each output can be display on LCD or LED displays up to 1920x1200 (2K) resolution
All outputs can be configured for display on a single UHD LCD or UHD display

Fully redundant power with hot-swap module replacement for 24/7 reliability

Dual Tally systems for each input
Dual in monitor text displays can be used manually or interfaced to TSL or Image Video tally systems
When interfaced to automated tally systems, labels and tally functions are dynamically updated
Tally can be controlled using simple GPI
Each source can display up to 8 channels of audio meters with peak level, high level, and range settings
Alarms can be assigned for audio high level, low level, or loss for user defined duration
Alarms are also available for Video loss, freeze
Ancillary function data indication
Signal format display for each input can be displayed momentarily or constantly with automatic update on signal change
Automatic and continuos diagnostics for all hardware and operating temperature with alarm or SNMP trap
Multiple systems can be controlled simultaneously with included software (Windows OS)
Multiple systems layouts can be controlled using an optional control panel
Any Aurora system can be accessed using PC, Tablet, or Smartphone for full function control via an internal web server
Layouts can be dynamically changed using the timed loop feature
Layouts can be designed using simulation control mode on a PC

---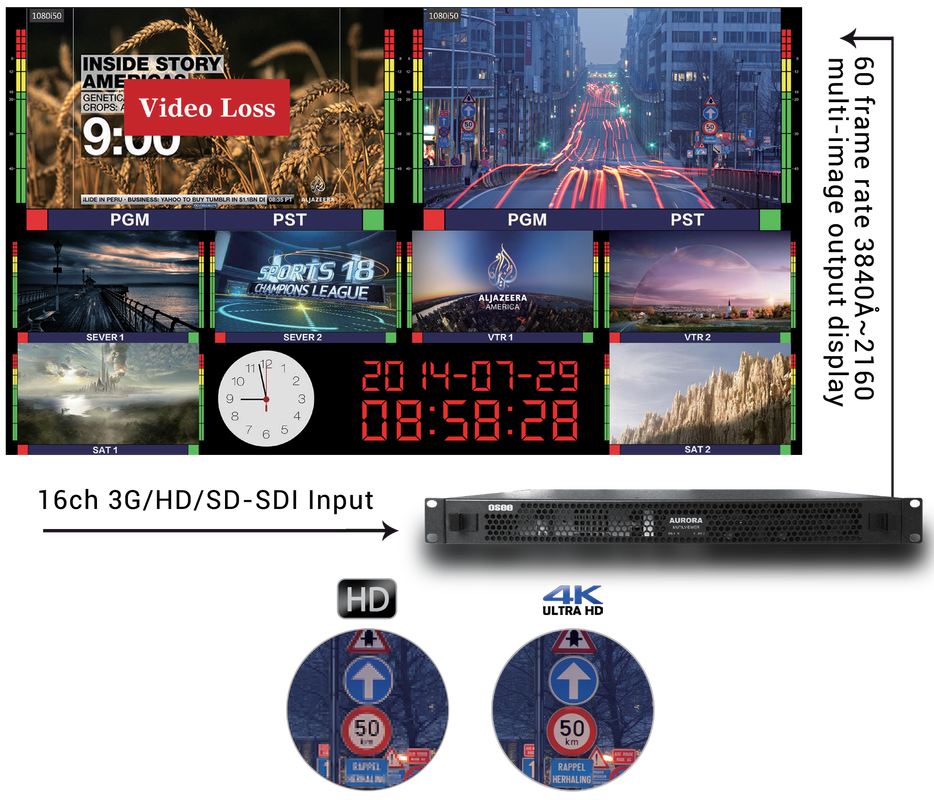 Features of Aurora1600 Introductory Package >>>

Auto-sensing of 16ch 3G/HD/SD-SDI Package Features
4ch SD/HDMI output
4ch matrix router output
Presents up to 16 framed images on a single screen
Cross-screen display
16ch GPI input and 4ch GPO output
LTC and UTC time calibration
Up to 1920×1080P50/60 resolution output on 4 independent HD screens.
4 outputs combined produce a single (quad link) 4k output at 50/60 frame rate
Dual-UMD, dual-Tally, up to 8ch audio level meter display and dynamically updated UMDs
Format, Marker and TC code display
Video/audio alarming: Video loss, freeze, black field, audio loss, audio over high or over low
Analog clock, digital clock and digital date function
Includes control and set-up software
Remote control panel operation for router outputs, layout presets, and in window source change