DMA6800
---
High Quality Digital to Analog Converter with Analog Audio De-embedding Module


The DMA6800 is a broadcast quality SD-SDI to analog video encoder and embedded audio de-multiplexing module with 2ch-3ch analog composite video outputs, 1ch-2ch SDI output with embedded audio and 2ch balanced analog audio output.
The DMA6800 adopts the latest encoding technology that gains high quality video output. The 12-bit decoding handles a variety of signal inputs, and assures the highest quality of the outputs. The 8X oversampling and jitter removal technology ensure the accuracy of the output signal.
Any of the four audio group can be selected for de-embedding. In addition, any two channels from selected audio group can be converted to analog audio.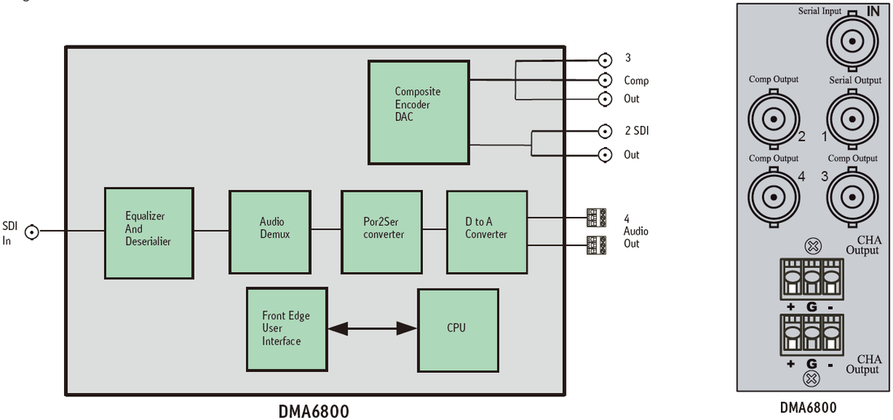 ---
Features >>>
SDI input with embedded audio, featuring auto-sensing mode
Up to two channels of SDI distribution outputs with embedded audio
Up to three channels of 12-bit 8 X oversampling analog composite outputs with broadcast quality

Two channels of balanced analog video output

Selects any audio group out of four audio groups to be de-embedded

Selects any two channels audio at random out of de-embedded audio groups and converting it into analog audio output

Card-edge control
---
Specifications >>>
Serial Digital Video Input
Standards: SMPTE 259M-C; 270 Mbps 525/625 SDI
Quantization: 10-bit
Connector: BNC (IEC169-8)
Input Impedance: 75 ohm
Input Return Loss: 18dB to 270MHz
Equalization: 230m(754.59 f )Belden 8281 cable

Analog Video Output
Standards: NTSC, PAL-B
Connector: BNC (IEC169-8)
Input Impedance: 75 ohm
Input Return Loss: >40 dB to 5.75 MHz
Quantization: 12 bits
Frequency Response: ±0.15 dB to 5.5 MHz
Differential Gain: <1%(typical<0.5%)
Differential Phase: <1°(typical <0.5°)
DC Offset: ±5 mV
Chroma-luma Delay: <1.5 ns
Chroma-luma Gain: ±1.5%
K Factor: <0.5%
Line Time Distortion: 0.1%
Signal to Noise: >60 dB

Serial Digital Video Output
Standards: SMPTE 259M-C; 270 Mbps 525/625 SDI
Connector: BNC (IEC169-8)
Impedance: 75 ohm
Return Loss: 18dB to 270MHz
Output Level: 800 mV ± 10%
DC Offset: 0 V ± 0.5 V
Rise and Fall Time: 400 to 1500ps(20% to 80% of amplitude)
Overshoot: <10% of amplitude
Jitter: <0.2 UI(740ps)Peak

Analog Audio Output
​Connector: 3 pin Connector
Model: Electron Balanced
Output Level: +18dBu to +28dBu
Max. Output Level: 0dBFS = +28dBu
Output Impedance: 66 ohm
THD+N: >85 dB @ 1 kHz, -1dBFS = 23dBu
Crosstalk: >95 dB,20 Hz to20 kHz
Frequency Response: <±0.04dB @ 0dBFS, 20 Hz to20 kHz
Signal to Noise: >100 dB @ 0dBFS
​
Power Consumption
Power: 2.7W
Positive Rail: 350 mA
Negative Rail: 40mA
*Specifications are subject to change without notice
---
Ordering Information>>>

DMA6800-2D2A
De-Multiplexer with Broadcast Quality Analog Audio & Video Output (2 embedded SDI Outputs, 2 analog composite video outputs,2 balanced analog audio outputs)

DMA6800-1D3A
De-Multiplexer with Broadcast Quality Analog Audio & Video Output (1 embedded SDI Outputs, 3 analog composite video outputs, 2 analog audio outputs)