SDX6811N/SDX6812N
---
Unbalanced/Balanced AES Audio De-embedding Module


The SDX6811N/SDX6812N is an AES/EBU de-embedding module, which de-embeds 4 channels (2 pairs) of AES/EBU audio and supports SDI outputs with equalization and reclocking. The user can choose any channel out of 4 embedded audio groups as an audio output or the user can choose the synthesized audio as an output signal.
Each module has its own distinct feature as follows:
The SDX6811N has unbalanced AES outputs, and the SDX6812N has balanced AES outputs.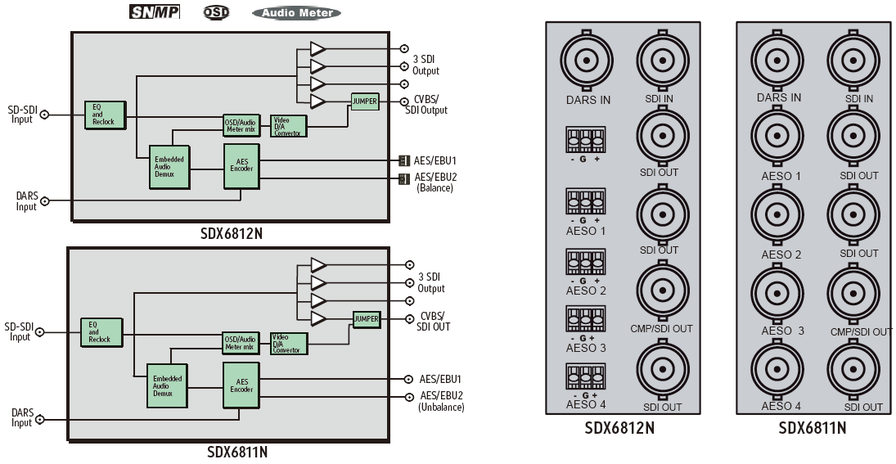 ---
Features >>>
De-embedding audio from SD-SDI signal
2 pairs (4 channels)of AES/EBU outputs
De-embedding in 525/625 video standard
SDI output with equalization and reclocking
One channel analog PVW output
27 available signal sources for each audio output

SD-SDI video input auto-detect and input status feedback




16-bit, 20-bit and 24-bit audio processing
4-channel audio metering display
Generating Tone signal at fixed frequency rate
Maximum 1.3 seconds audio delay, invert and mute
EDH Monitoring
Freeze frame, black field and video loss detection
Audio loss and audio overload monitoring
---
Specifications >>>
SDI Video Input​
Standards: SMPTE259M-C; 270 Mbps, 525/625 component
Connector: BNC(IEC 169-8)
Impedance: 75 ohm
Return Loss: >18 dB to 270 MHz
Equalization: Auto equalizing to 30dB@270 Mbps

SDI Video Output
Standards: SMPTE259M-C; 270 Mbps, 525/625 component
Connector: BNC (IEC 169-8)
Impedance: 75 ohm
Return Loss: >18 dB to 270 MHz
Signal Level: 800 mV +/-10%
DC Offset: 0 V ± 0.5
Rise and Fall Time: 400-1500 ps (20% to 80% of amplitude)
Overshoot: <10% of amplitude
Jitter: <0.2 UI (740 ps) (peak to peak)​

Balanced DARS Input
​Connector: 3-pin connector
Sensitivity: < 200mv
Impedance: 110 ohm +/- 20% (0.1 to 6 MHz)
Maximum Input Level: 10V(peak to peak)
CMR Ratio: >30 dB below output signal (0 to 6 MHz)​
​
Unbalanced DARS Input
Connector: BNC(IEC 169-8)
Sensitivity: < 200mv
Impedance: 75 ohm
Return Loss: >35 dB, 0.1 to 6.0 MHz​

Analog Composite Video Output
Standards: NTSC, PAL or PAL-M
Level: 1Vp-p +/-3dB
Impedance: 75 ohm
Return Loss: >40 dB to 5 MHz
DC Offset: 0V±0.05 V
Frequency Response: ±0.2 dB to 5 MHz
IDifferential Gain: <1%
Differential Phase: <1.5°
Group Delay: +/-10ns to 5 MHZ​

Unbalanced AES Output (applicable to SDX6811N only)
Connector: BNC(IEC 169-8)
Output Level: 1.0 V +/-10% (peak to peak)
DC Offset: 0.0V±50.0mV
Rise and Fall Time: 30 to 44 ns (10% to 90% of amplitude)
Impedance: 75 ohm
Return Loss: >25 dB, 0.1 to 6.0 MHz

Balanced AES Output (applicable to SDX6812N only)
Connector: 3-pin connector (male)
Output Level: 2.0 to 7.0 V (peak to peak)
Jitter: +/-20 ns
Rise and Fall Time: 5 to 30 ns (10% to 90%)
Impedance: 110 ohm +/- 20% (0.1 to 6 MHz)
CMR Ratio: >30 dB below output signal (0 to 6 MHz)
​
Power Consumption
Power: 3.25W
Positive Rail: 500 mA
Negative Rail: 10 mA
*Specifications are subject to change without notice
---
Ordering Information>>>

SDX6811N
Unbalanced AES audio de-embedding module

SDX6812N
Balanced AES audio de-embedding module