VAC6840N
---
Analog Changeover Switcher
The VAC6840N is an analog changeover. The changeover is performed by the relays on VAC6840N rear panel. Selected signals at the output are maintained when there is power failure.
The input can be selected automatically or manually. Automatic signal selection is based on the video signal presence and the video level detection.
An optional remote control panel can be chosen for manual controls.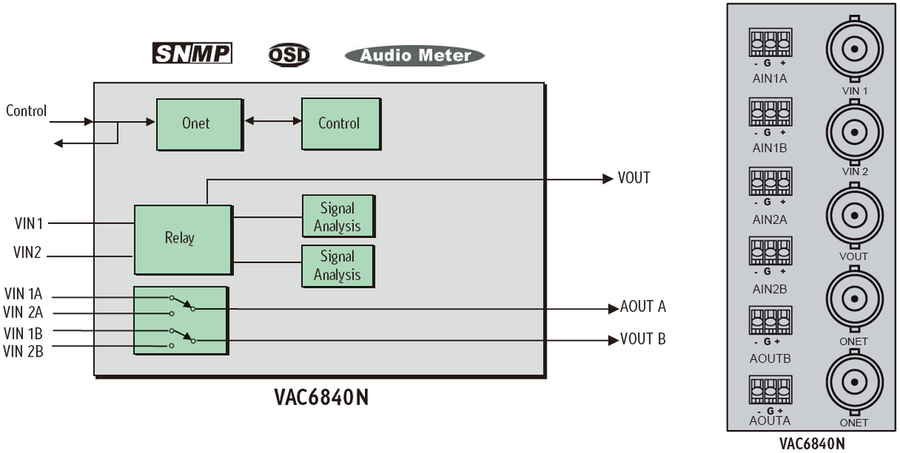 ---
Features >>>
Support NTSC/PAL inputs

The selected input signal can be saved when power down

Monitoring for the video level and video loss individually, signal can be selected automatically

Can be used for auto switching of sync signal
---
Specifications >>>
Analog Video Input​
Input Number: 2
Standard: NTSC, PAL-B
Connector: BNC( IEC 169-8)
Signal Coupling: DC
mpedance: 75 ohm​

Analog Video Output
Output Number: 1
Connector: BNC(IEC 169-8)
Impedance: 75 ohm

Analog Audio Input​

Input Number: 4

Signal: Balanced analog audio

Connector: 3-pin connector

Analog Audio Output​

Connector: 3-pin connector

Signal: Balanced analog audio

Power Consumption

Power: 2.4W

Positive Rail: 350 mA

Negative Rail: 20 mA​
*Specifications are subject to change without notice
---
Ordering Information>>>

VAC6840N
Analog video and Audio Changeover Swither