VDA6801N/VDA6802N
---
Analog Video Distribution Amplifier
The VDA6801N/VDA6802N is a distribution amplifier module with high performance, high reliability and has a low power consumption. The VDA6801N has one input and 8 outputs; the VDA6802N has two inputs, each has 4 outputs, or it can be set for eight outputs via a jumper.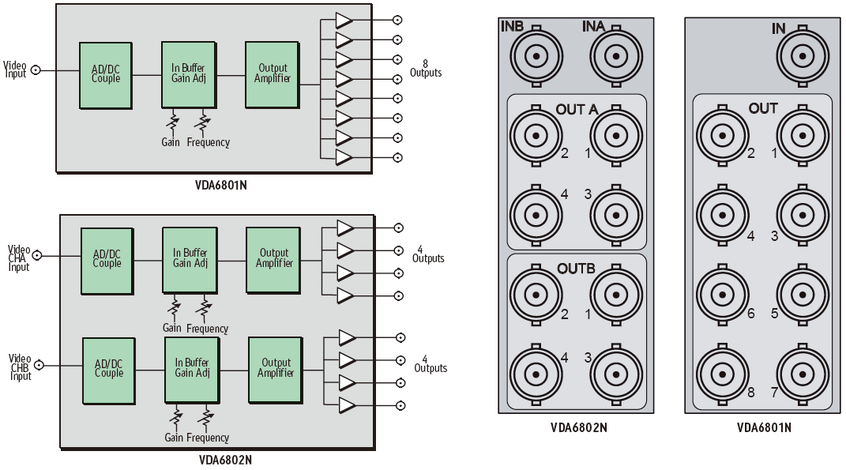 ---
Features >>>
AC/DC coupling
+/-3db gain range for adjustment
525/625 input signal detection
---
Specifications >>>

Analog Video Input
Input Level: 1 Vp-p nominal
Maximum Input Level: 2.5 Vp-p centered @ 0 V
Input Impedance: 75 ohm
Input Connector: BNC (IEC169-8)
Input Return Loss: >45dB to 5 MHz, >40dB to 10 MHz

Analog Video Output
Output: 8
Connector: BNC (IEC169-8)
Output Impedance: 75 Ohm
Output Return Loss:
​ >45 dB to 5 MHz, >40 dB to 10 MHz
Output Isolation: >40 dB @ 10 MHz

Performance
Gain: -3 dB to + 3 dB
Frequency Response: +/-0.05dB to 10MHz
Line Distortion: <0.20%
Field Distortion: <0.20%
Differential Gain: <0.15%
Differential Phase: <0.15°
S/N: >70 dB
Overshoot: <10%

Power Consumption
Power: VDA6801N: 1.5W; VDA6802N: 2.5W
Positive Rail: VDA6801N:150mA ; VDA6802N: 250 mA
Negative Rail: VDA6801N:50mA ; VDA6802N: 150mA
*Specifications are subject to change without notice.

---
Ordering Information >>>

VDA6801N
Analog video distribution amplifier, 1x8
VDA6802N
Analog video distribution amplifier, 2-1x4,or set 8 outputs via jumper